One soul on a platter, served extra crispy.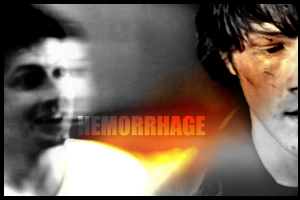 Title: Hemorrhage
Song Artist: Fuel
Video Artist: Fabella (
wistful_fever)
Summary: Your world ends when you choose. Gen. Relationship Study. Dean, Sam.
Fandom: Supernatural
Spoilers: Season 1, Season 2
Length: 3:21 min
Format: avi

Warning: This video contains scenes from episode 2x10, the latest Supernatural epsiode aired at this posting date.

Download Links
Hosted on Obsessive24.net: (right click, save target as)
47.8mb (zipped)
28.6mb (zipped)

47.8 mb, avi (megaupload)
28.6 mb, avi (sendspace)
28.6 mb, avi (YSI)
Streaming Video @ Imeem

A permanent version will be up eventually. My FTP is still broken. *face/palm*

Links Last Updated: 05/02/08


Downloading/Watching Information

a) You're going to need a divx codec to play this, and a lot of other vids. Go to divx.com to download. It's free, it's fast, it doesn't take long to set up. If your enjoy songvids, it's worth the extra effort.

b) Quality is directly related to size.

c) If you're going to link to this, please link to the journal entry only, not directly to the video link, and please do not post this video elsewhere without my permission.

Source Details
Stock.Xchng
supernaturalfan.net
Nuclear Test Footage



Feedback is always welcome.